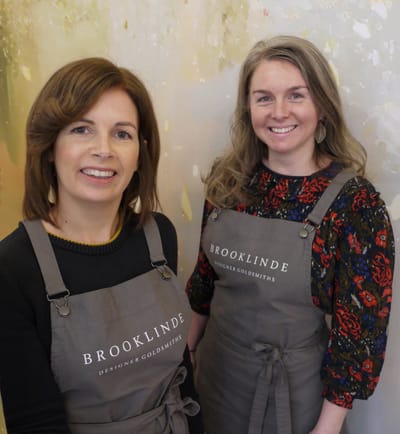 We are Clare and Emma, the very proud owners of Brooklinde Designer Goldsmiths.
After both studying for degrees in Jewellery and Silversmithing at Loughborough and Buckinghamshire Chilterns respectively, we started our professional journey working at Brooklinde. Loving all aspects of our job from designing, making in the workshop and face to face work with our lovely clients. When we had the opportunity to take over the business in 2020 we jumped at the chance.
In April 2021 we moved the short distance to the vibrant and historic Royal Arcade, allowing us to truly put our own stamp on the business, and we haven't looked back.
We love the commission side of what we do. Being able to guide you the customer towards a stunning piece of jewellery whether it's for yourself or a gift. Enabling a beautiful design whilst taking into consideration practicalities and budgets. Very often finding ways to reuse sentimental jewellery in a way that suits you. It is hard to think of a better way to spend our day, especially handing over the finished piece and seeing the joy it brings.
Showcasing our own silver and gold collections alongside other jewellery designers, such as Deco Echo and Manu, enables us to show a spectrum of contemporary jewellery.
Over recent years, a close working relationship with the film industry has seen our
collections and bespoke pieces being worn regularly on stage and screen.